About the Program
Program Overview
The Masters of Arts in Clinical Mental Health Counseling Program is a 60-hour program providing core CACREP curriculum and emphasizes general training in clinical mental health counseling. It uses a primarily face-to-face method of instructional on the campus of Appalachian State University and is designed to meet The State of North Carolina Licensed Clinical Mental Health Counselor and National Certified Counselor standards, and to prepare counselors for a wide variety of human service agencies, including, mental health centers, social service agencies, educational institutions, private practice, government, business and industry. The community of practice combines classroom instruction with structured practical experiences to prepare students as counselors. The program is designed to accommodate full and part time students. The faculty and students work together to create an inclusive and diverse environment that fosters personal and professional growth and development. The program attempts to produce counselors who are leaders and advocates as they carry out their roles in counseling.
Mission Statement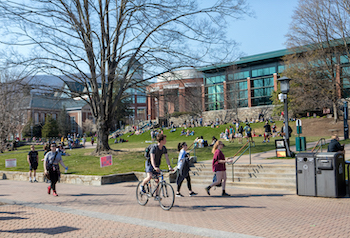 The mission of the Clinical Mental Health Counseling program is to develop a community of practice that will support graduate students enrolled in HPC courses to move from novice towards entry level mental health practitioners through the process of socially meaningful activities that develop the knowledge, skills, and attitudes necessary to become effective, ethical and competent counselors with diverse clients across the human spectrum.
Program Objectives
1. Enroll diverse students who demonstrate potential for becoming effective counselors.
2. Prepare students to demonstrate professional and ethical behavior.
3. Prepare students who demonstrate knowledge and skills to become competent counselors in their respective specialty areas.
4. Foster in students a strong identification with and engagement in the counseling profession.
Expectations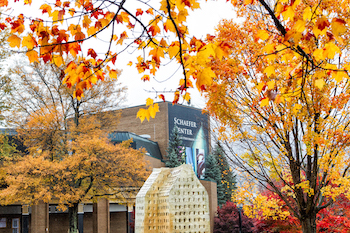 Program faculty expects students to demonstrate professionalism and a commitment to:
Gaining the necessary knowledge as identified in program objectives.
Understanding and applying appropriate professional and ethical standards.
Developing facilitative interpersonal skills.
Developing the personal qualities necessary to integrate and apply their knowledge and skills.
Displaying evidence of good judgment and appropriate emotional functioning prior to contact with clients in any practicum or internship. Those students who are recovering from a personal addiction to alcohol or drugs are expected to have 12 months of continuous sobriety prior to registering for the Practicum in Counseling and 15 months of continuous sobriety prior to registering for the internship.
Accreditation
The Clinical Mental Health Counseling (M.A.) program is accredited in clinical mental health counseling by the Council for Accreditation of Counseling and Related Educational Programs (CACREP), a specialized accrediting body. Graduates are eligible to take the examination of the National Board for Certified Counselors, Inc. with successful completion qualifying the individual to become a National Certified Counselor (NCC).
Personnel
The Clinical Mental Health Counseling program has five primary faculty members, two full-time support staff members, and utilizes other personnel (mental health professionals, and intern/practicum supervisors) to successfully carry it's mission. The Clinical Mental Health Counseling Program Advisory Board meets periodically consisting of department faculty, students, and mental health professionals to discuss relevant issues affecting the field of counseling.
Faculty members include: Mark Schwarze, Ph.D.; Dominique Hammonds, Ph.D.; Christina Rosen, Ed.D.; Katherine Biddle, Ph.D. Administrative support staff includes Margaret Hardin (Student Services).