Academics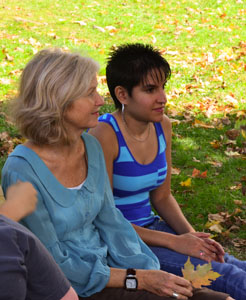 Students majoring in the Clinical Mental Health Counseling curriculum leading to a Master of Arts degree will take the courses listed below. This program is designed to meet the need for advanced preparation of counselors and other helping professionals who work in a variety of human service agencies (including mental health centers, social service agencies, business and industry employee assistance programs, and others). In addition to the core curriculum, students can select, in cooperation with their advisor, from a variety of elective courses that will help their individual career objectives.
Master of Arts in Clinical Mental Health Counseling: Required Courses
CACREP Core Courses
CED 5140: Counseling Assessment and Testing (3)

CED 5220:Counseling Theory and Techniques (3)
CED 5210 :Career Development and Counseling (3)
CED 5272: Individual and Family Development Across the Lifespan (3)
CED 5000: Counseling Research and Evaluation (3)
CED 5225: The Helping Relationship (3)
CED 5790: Group Methods and Processes (3)
CED 5110: Social and Cultural Diversity in Counseling and Therapy (3)
CMHC Specialty Courses
CED 5120 Introduction to Clinical Mental Health Counseling (3)
CED 5560 The Addictive Process (3)
CED 5580Trauma, Suffering, and Loss (3)
CED 5752 Legal and Ethical Issues in Clinical Mental Health Counseling (3)
CED 6120Developmental Assessment and Diagnosis in Counseling (3)
Clinical Field Placement
CED 5902Practicum in Clinical Mental Health Counseling (3)

CED 6902Internship in Clinical Mental Health Counseling (3)
CED 6902Internship in Clinical Mental Health Counseling (3)
Guided Elective Hours: 12

Total Hours: 60
** Both the practicum and internship have specific prerequisite requirements that must be met before enrollment. In addition, approval from the departmental chairperson is also required.
Elective Courses
Students may take other graduate courses as electives provided that: (a) they have taken any necessary prerequisite for the course, and (b) the course is consistent with student's interests and career goals and is approved by his/her advisor. The following electives are examples of being seen as particularly relevant for the "typical" student.
Common Electives
CED 5550 Equine Assisted Therapy (3)
CED 5555 The Neurobiology of Addiction (3)
CED 5565Introduction to Play Therapy (3)
CED 6160Gestalt Therapy (3)
CED 6290Child and Adolescent Therapy(3)
CED 6350Body/Mind(3)
CED 6355Mindfulness-Based Counseling (3)
CED 6360Therapy and Expressive Arts (3)
CED 6710Human Sexuality (3)
CED 6730Sexual Abuse Counseling (3)