We walk this path together!
The Clinical Mental Health Counseling program is typically a 2 to 3 year program. During this time of commitment to personal and professional growth, our students often remark on the sense of 'community' they develop with one another. Admission to the Clinical Mental Health Counseling program is quite competitive, and we believe our students are a significant aspect of our success as a professional counselor preparation program.
Here, you will find profiles of featured students selected to demonstrate the variety of interests and backgrounds within our student community as well as updates of student achievements (i.e. awards & honors).

Featured Students

Sarah James, B.S.
Entry Year: 2015
Academic Tracks: Clinical Mental Health Counseling, Addictions Counseling Certificate
Prior Education: B.S. in Psychology from Xavier University, minors in Business and Gender & Diversity Studies
Why I Chose App: I grew up in West Virginia, and when I moved to Ohio for undergrad I realized that I really missed the mountains and the Appalachian region. As I was researching grad schools, App really stood out to me. I was interested by the diversity of specialization options offered by the counseling program, and when I came to campus for my interview I fell in love with the place. I really appreciated the professors' commitment to students' development and well-being. I also love the town of Boone and the beauty of the mountains!
Counseling Interests: I am very interested in addictions in young adults, and I want to explore the relationship between rural Appalachian culture and substance abuse patterns.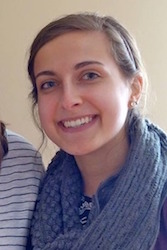 Meghan Rock, B.A.
Entry Year: 2016
Academic Tracks: Clinical Mental Health Counseling, Addictions Counseling Certificate
Prior Education: BA in Psychology from The University of South Carolina
Why I Chose App: I chose App because this program allowed me to get a general degree in Clinical Mental Health Counseling, but also gave me the flexibility to complete a certificate in Addictions as well. Also, I was super impressed by the faculty and the students when I came for my interview. And of course, the mountains!
Counseling Interests: I'm interested in substance abuse/addiction counseling with homeless individuals in urban areas. I am interested in exploring the relationship between housing and substance abuse in our cities.
Student Achievements
2016 Achievements
Congratulations Verena Wieloch for being awarded the 2016 Association for Specialists in Group Work Peg Carroll Scholarship!
2015 Achievements
Congratulations to Will Luckett for:

receiving the Governor's Institute Scholarship for addictions counseling!
being selected as a Graduate Ambassador to represent App State's graduate school!
being appointed treasurer of the North Carolina College Counselor's Association!
2014 Achievements
Congratulations to Wanda Ortiz for collaborating in writing the textbook, Assessing Bilingual Children in Context: An Integrated Approach, published by the APA.
Congratulations to Will Luckett for receiving the Chancellor's Fellowship from ASU's Cratis D. Williams Graduate School
Congratulations to Andrew Gleim for being inducted into CSI and being elected co-chair of the Workshop Committee for the Orchesis Honor Society.
Congratulations to the 2014 Cohort for having their research posters accepted and presented at the 2014 NCCA conference.
2012 Achievements
Congratulations to Mark Rasdorf for receiving the Graduate Student Award from the Association of LGBT Issues in Counseling (ALGBTIC), a division of the American Counseling Association (ACA), at the March 2012 ACA National Conference in San Francisco.
Congratulations to Elizabeth De Santo for receiving the Lovill Fellow.
Congratulations to Anne Hosey and James G. Bursenos for receiving the Chancellors Fellows.
Congratulations to Shellie Beeker for receiving the Joyce Lawrence Professional Development award.
2011 Achievements
Congratulations to David Weisenhorn for being the selected winner of the 2010 National Board of Certified Counselors Military Scholarship. The military scholarship provides financial support to service members and veterans who are currently enrolled in a master's-level CACREP-accredited counseling program and who commit to serving military personnel after graduation.